The motor insurance market is being affected by multiple changes outside insurers' control. These include vehicle manufacturing techniques, safety and autonomous driving technology, consumers' driving and ownership habits, and disruptive entrants offering more personalised insurance. In this short brief, we thought we'd look at the disruption occurring from vehicle manufacturing and safety technology.
Reviewing data on the severity of UK physical damage claims and their frequency since 2013, you can see a startling trend in motor physical damage claims.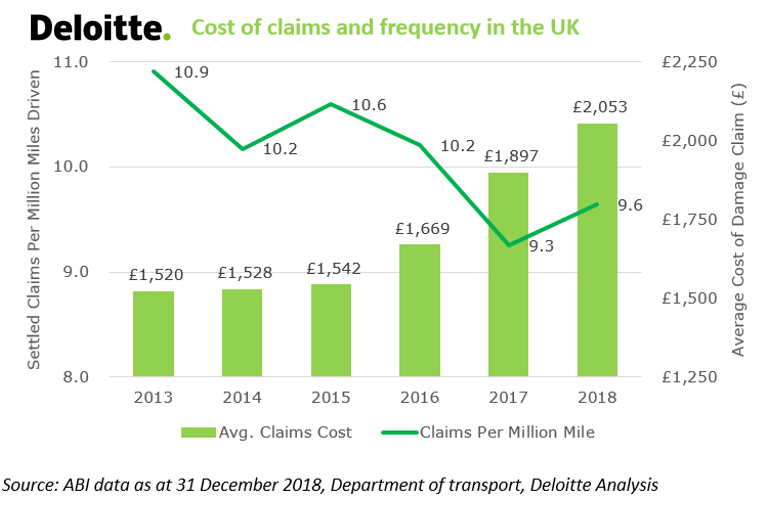 The analysis above shows a clear trend for declining physical damage claims per mile driven (i.e. falling frequency). In the UK, the primary reason for this is vehicle safety technology improving safety. In other markets, we see similar a trend but with even steeper declines (than in the UK) where governments have launched safe driving initiatives.
Conversely, we are seeing a continued rise in repair costs, far exceeding that of inflation. There are three main drivers causing this:
Advanced materials: Cars are being made using lighter and more processed raw materials in frames, bodies and other components. The typical car used to be 47% steel, but this is being replaced with aluminium, a lighter metal. Aluminium is twice as expensive as steel and this increases the cost of raw materials.
Car-Embedded technology: The average bumper now has 4-6 sensors and windscreens have complex technology embedded in them, which has escalated costs by up to 123%. What used to be a minor dent to a bumper is now damage to complex sensors, which may require replacement.
Labour cost: Overall labour costs have been rising in the UK. This is further amplified by the need for specialists skills to diagnose problems with and then repair the advanced technology mentioned above.
Disruption ahead
The average car in the UK is 8.7 years' old. This means that the trends discussed above will accelerate as the nation's stock of cars is gradually replaced with newer, more advanced vehicles. Put simply, many of the claims hitting insurers' books today are for old cars, but this will change. As the motor industry evolves and insurers further digitalise their operations, the big question is: how can insurers manage rising claims costs?
unknown

x

500
More posts by Mahima Agarwal
Recent posts from InsurTech World